From Automatic Doors to Dock levellers and fans, we have all your warehouse requirements covered.




1. Compact Doors
Compact doors supplied by Smarter Automated Solutions (SAS) is a highly customizable automatic door which can be utilized as an exterior or internal gate way.
With the ability to specify each individual panel the compact doors have the following features;
Features Compact Door
Little installation space required
Anti-lift device
Insulated exterior door
Suitable as interior door
Opening frequency <10/uur Opening frequency >10/uur
Glazing
Manual operation
Electrical operation
Storm proof
RAL colour options
Low maintenance
High speed option
Your choice of door
2. Warehouse Fans
Keep your warehouse staff cool and comfortable in the harsh Australian summers by implementing Whalenado™ fans into your workplace.
Available in 8ft (2438mm), 12ft (3658mm), 16ft (4877mm), 20ft (6096mm) and 24ft (7315mm) Whalenado™ fans come with many features including;
Whalenado™ fans use NORD™ In-line heavy duty gearmotors that are engineered using a one piece Unicase™ design.
Whalenado™ motors produce superior performance without the need for high power consumption.
Whalenado™ airfoils are engineered to extend the life of your fan by preventing blade vibration that results in efcient operation and energy usage.
Perfected aerodynamic airfoil design, Whalenado™ fans provide alloy construction coverage over larger areas while resulting in an evaporative cooling benefit.
Whalenado™ airfoil angles are 3x higher than competitive models producing lager areas of coverage.
Non-disruptive airfow is evenly distributed resulting in constant/even temperatures.
Whalenado's HVLS airfoils neutralize hot/cold zones through thermal destratifcation to create a safer, more comfortable working environment.
Whalenado™ fans require less maintenance resulting in recommended inspections every 20,000 hours of operation.
Whalenado™ airfoil colours can be customized to match interior design or corporate branding requirements.
Class leading Lifetime warranty on Whalenado™ blades and hub.
3. Warehouse Management Systems (WMS)
A Warehouse Management System (WMS) will bring a range of benefits to many different types of organizations. Any operation where there is a need for stock control can benefit in a variety of areas such as;
Staffing levels – By implementing an effective WMS, businesses can manage their peaks and troughs more efficiently and reduce the chances of operating with excess staff.
Operating Equipment – By running a leaner and more efficient operation businesses can reduce the need to purchase additional plant and capital equipment.
Inventory Accuracy – A WMS can monitor inventory levels and place orders from pre-set reorder points, allowing you to operate with less stock but maintain your speed to market. This useful feature has saved companies upward of 10% off their stock on hand value before the WMS was implemented.
Maximise your Facility – As your business grows your facility will need to cope with an increase in inventory throughput. An efficient WMS can sit at the heart of your operation and accurately and effectively manage the stock rotation and picking sequences.
Effective Management Control – Real time reports from a comprehensive WMS can provide warnings of stock control problems much sooner than traditional manual systems. Effective management control in this method provides opportunities for better customer service with back ordered stock automatically be released picked and delivered. Real time reporting also offers business owners with real time data, providing better information for important decisions.
Smarter Automated Solutions (SAS) will work with you to develop a software package tailored to your needs.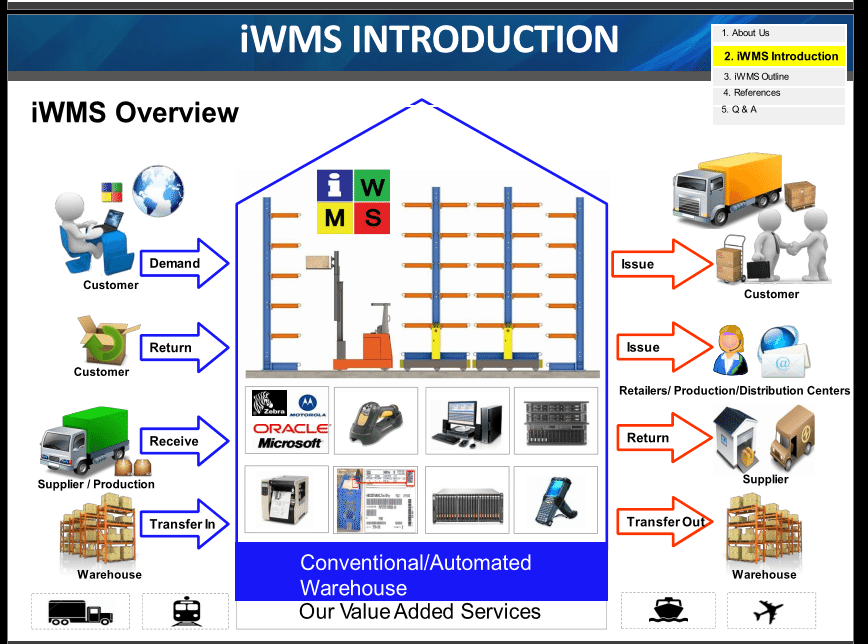 4. High Definition Video Solutions
Connect your organization with high quality video to enhance communications and awareness, support time-critical decision making, monitor remote operations, connect facilities, and support collaboration.
Haivision's encoding, distribution, and playout products combined with Secure Reliable Transport (SRT) technology, deliver high quality, low latency video over any network to give your audiences the best viewing experience.






Do not trust your important business video conference calls to skype, entrust Smarter Automated Solutions (SAS) to develop a video conference solution that has superior features such as;
Stable, secure and military standard encryption over public internet
Capture and transmit video files at low latency, no drop frames and high definition video quality
Metadata on video as analytical tool
Hai vision is the only company with JITC certification to provide both commercial-grade and airborne encoding
HIPAA compliant, ISO 13485:2003 certification and IEC 60601 standards for security and confidentiality in operating rooms
Enhancement to existing CCTV, not replacement
Recorder allows playback without stopping the recording